308 Ninth Street, Honesdale, PA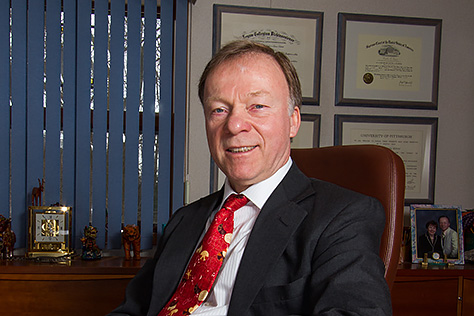 Ronald M. Bugaj
Attorney at Law
RONALD M. BUGAJ was born in Woodstown, New Jersey, and moved to Honesdale, Pennsylvania with his family when he was in grade school. He graduated from Honesdale High School in 1967, and went on to receive this Bachelors degree from the University of Pittsburgh in 1972, majoring in geology, and his Juris Doctorate from the Dickinson School of Law in 1975.
While at Pitt, Ron earned Freshman and Varsity Letters while playing for the University's soccer team. A member of Pitt Varsity Letter Club, Ron was recommended for consideration as a nominee for the Varsity Letter Club Awardee of Distinction in 2017. In 2006, he was elected into the Wayne County Sports Hall of Fame for his accomplishments in soccer, baseball, ice hockey, and mountain climbing.
Ron initially started working at the law firm of Gumble, Thomson & Linshaw in Paupack and Milford, Pennsylvania before opening up his own firm in Honesdale, Pennsylvania in 1977. Ron has been in practice now for over 45 years. A member of the Wayne County and Pike County Bar Associations, Ron has served as President of the Wayne County Bar Association, and currently serves as the Chairperson of the Wayne County Bar Association's Family Law Committee. He is a featured speaker at the Wayne and Pike County Bar Associations' continuing legal education seminars in the field of family law.
When Ron is not working, he enjoys mountain climbing, traveling, collecting rocks and minerals, and hiking. A member of the Swiss Alpine Club, the world's most prestigious hiking/climbing club, Ron has climbed 20 significant mountains on all 7 Continents, including Mt. Kilimanjaro (Tanzania), Mt. Ararat (Turkey), Mt. Rysy (Poland), Mt. Ras Dashen (Ethiopia), Adam's Peak (Sri Lanka), Mt. Pollux (Switzerland), Mt. Kinabalu (Borneo) and Mt. Hermon (Syria). His hiking excursions include the Grand Canyon in Arizona from rim to rim, the Inca Trail in Peru, the Milford Track (New Zealand), the Charles Kuonen Suspension Bridge (Switzerland), and the Valley of the Assassins (Iran).
BAR ADMISSIONS
Pennsylvania

United States District Court for the Middle District of Pennsylvania

United States Court of Appeals for the Third Circuit

Supreme Court of the United States of America
EDUCATION
Dickinson School of Law, J.D., 1975

University of Pittsburgh, B.S., 1972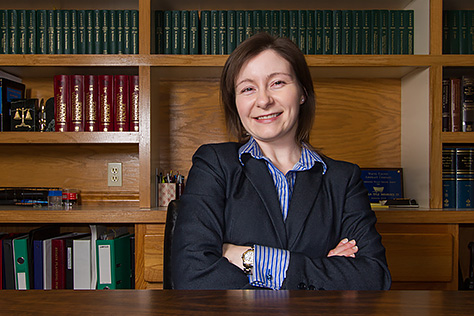 Ronnie Fischer
Attorney at Law
RONNIE J. FISCHER grew up in Honesdale, graduating from Honesdale High School in 1995, and returned to Honesdale after receiving her law degree in 2003. In the ten years that she has been practicing law, Ronnie has handled cases in the areas of family law, civil litigation, criminal defense, landlord/tenant, estate planning, municipal law, business law, planned community associations, and real estate.
As someone who received her Bachelor's and Master's degrees in English literature and has always enjoyed writing, Ronnie is a skilled legal writer. This can particularly be seen in her appellate advocacy, as she has successfully briefed and argued numerous cases on appeal. In addition to prevailing in appeals before the Pennsylvania Superior and Commonwealth Courts, Ronnie succeeded in getting the Pennsylvania Supreme Court to accept three of her cases on appeal (the Pennsylvania Supreme Court generally accepts less than 5% of cases submitted to it on appeal each year), and recently succeeding in getting the Third Circuit Court of Appeals to allow an appeal in a criminal matter.
Ronnie is a member of the Wayne and Pike County Bar Associations, having served first as Secretary and then President of the Wayne County Bar Association. She was named as one of Pennsylvania's "10 Best Family Law Attorneys" by the American Institute of Family Law Attorneys for 2019 and 2020, and as one of Pennsylvania's "Top 10 Family Law Attorneys" by Attorney and Practice Magazine for 2020.
When Ronnie is not working, she enjoys traveling, photography, cooking, writing, golfing, horseback riding, and hiking.
BAR ADMISSIONS
Pennsylvania

United States District Court for the Middle District of Pennsylvania

United States Court of Appeals for the Third Circuit

Supreme Court of the United States of America
EDUCATION
Dickinson School of Law, J.D., 2003

McGill University, M.A. (English Literature), 2000

Northwestern University, B.A. (English Literature), 1999
PUBLICATIONS
"What's in a Name?": An Attempt to Resolve the "Analytic Ambiguity" of the Designated and Limited Public Fora, Winter 2003 Dickinson School of Law Review